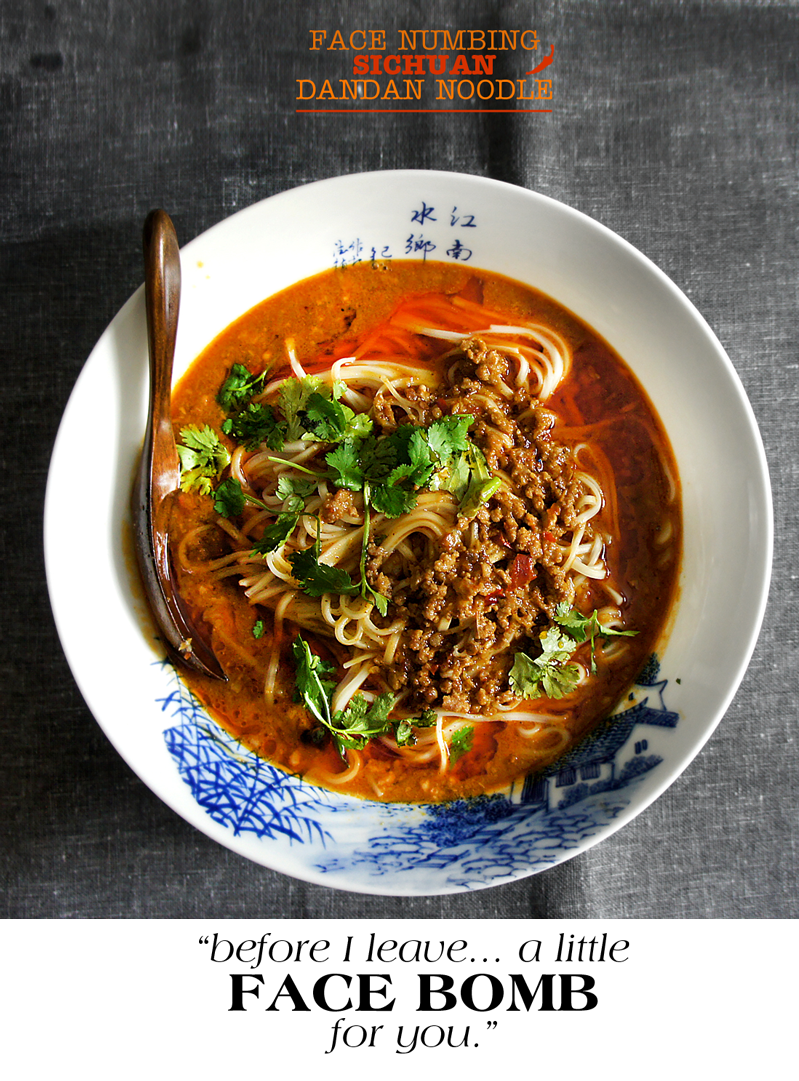 Sichuan cuisine is famous for the liberal application of chili pepper and Sichaun peppercorn to every food that comes into sight.Dan Dan Noodles are no exception! This famous noodle dish with stir fried beef in a spicy sauce will have you drooling with pleasure, and, possibly, spice overload. The good thing is, the level of spice is up to you when you make it at home
Note that the photographs do not present a ratio of ingredients to scale. I doubled the meat topping and sauce so the dish would appear abundant and saucy. Don't fret if yours doesn't look the same, I promise it will taste super yummy
The only sad part about this recipe story is that I sent the leftovers with Chris for lunch, but he left the container at work and so I lost my favorite Tupperware. Life is so unforgiving sometimes ;(
VITALS 
Your mission: Szechaun Dan Dan Noodles (adapted from Dunlop, 2001, p. 89)
Cuisine: Chinese (Szechuan)
Level: Intermediate
Toolkit: Wok + small mixing bowl
Time: 20 minutes (all active)
You'll feed:  2 bellies
INGREDIENTS
Meat topping
1 TB peanut oil
4 dried Szechuan red chilis
½ tsp whole Szechuan peppercorn
2 TB Tianjin preserved vegetable (天津冬菜)*
6 oz ground beef
2 tsp light soy sauce
Sauce
1 tsp ground Szechuan pepper
4 tsp Chinese sesame paste**
1 TB light soy sauce
2 TB chili oil
Pinch of dried red chili flakes
Other
8 oz dried Chinese wheat or egg noodles
NOTES*    
* Tianjin preserved vegetable is salted cabbage and can be found at most Asian grocers. This is the brand I use, but I have found it at many Asian markets for about $5. If you show a picture of the jar, or the characters above, to clerks at your local store, hopefully they can help you find it (sometimes it is in weird aisles; one time I found it with next to the candy).
** This is the brand of Chinese sesame paste, I use but I get it from the Asian market for about $3. Look for one that has as few ingredients as possible, ideally one that just has 'sesame' listed under ingredients. Note that Chinese sesame paste is different than tahini paste, and tahini is not a good substitute. Both pastes are made from sesame seeds, but Chinese sesame paste is made from toasted sesame seeds, while tahini is made from untoasted sesame seed.
Any leftovers will keep well, refrigerated, up to 3 days.
STRATEGY

Make the sauce
In a small mixing bowl, add the sesame paste and soy sauce. Using a fork, mash the sesame paste into the soy sauce until you can mix it into a thick – but pliable – paste. Then, add the remaining sauce ingredients and stir to combine until you have a smooth, dark, viscous sauce.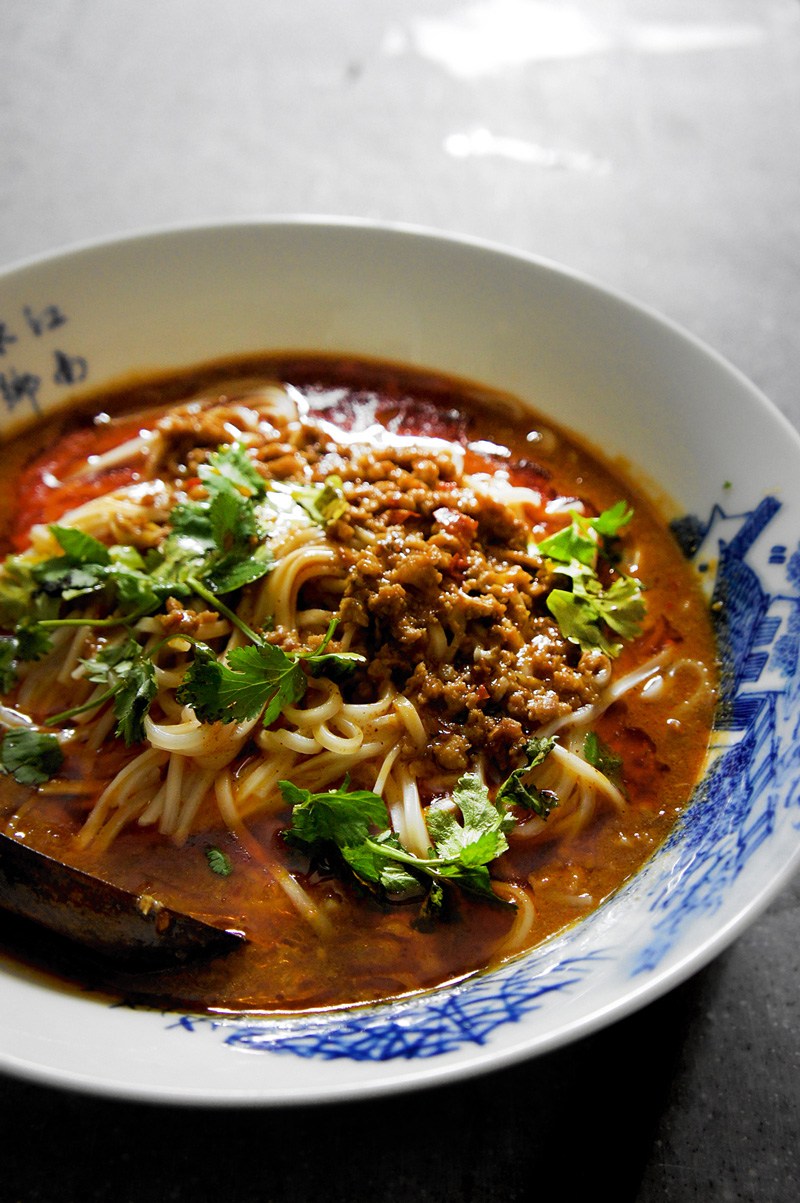 Fry the meat topping
Heat the wok over medium high heat. Add 2 TB of peanut oil and heat until smoking lightly. Add the peppercorns and chilis and stir fry for 30 seconds, then add the beef, Tianjin preserved cabbage and soy sauce, and stir fry until beef is brown and crispy but not over dry, about 7-8 minutes. Remove the wok from heat.
Cook the noodles
Cook the noodles according to package instructions. Be sure to use unsalted water for boiling. After cooking, place in your serving bowl.
Assemble the components
Pour the sauce on top of the noodles and the meat on top of the sauce (or vice versa). Mix to combine.
NOM
Slurp away!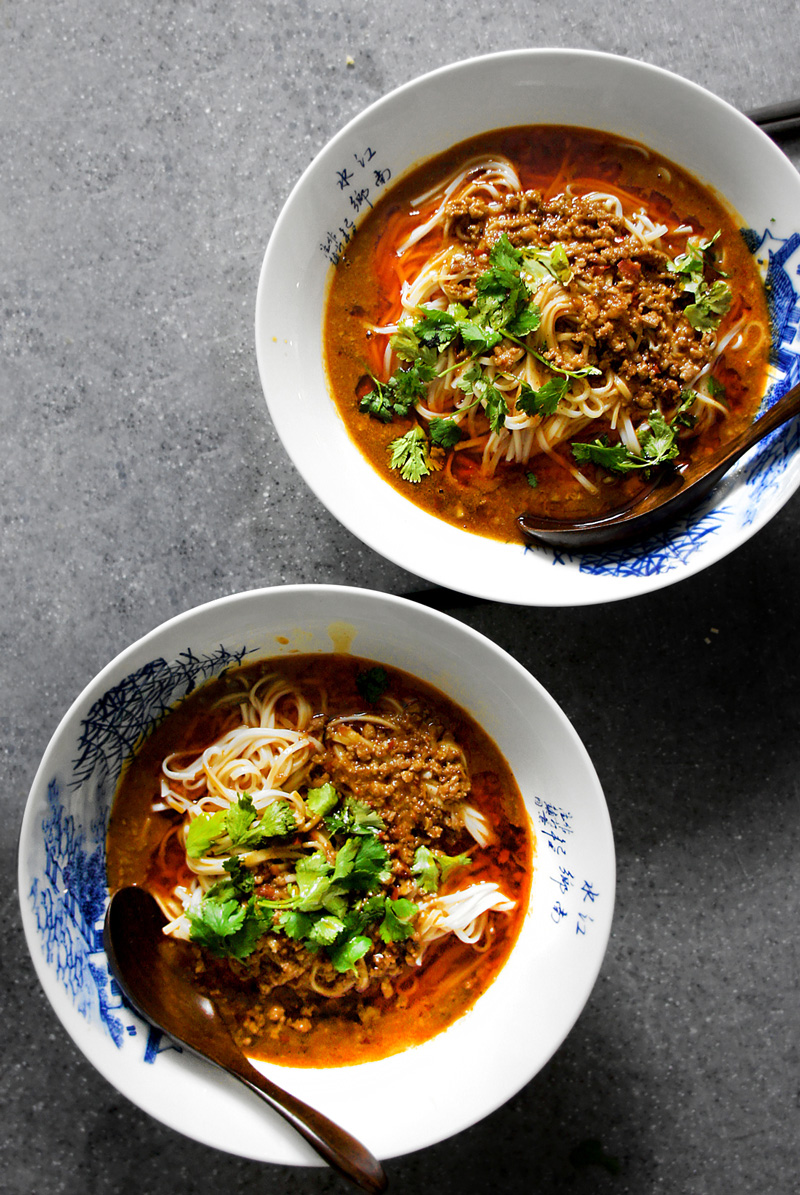 WORKS CITED
 Dunlop, F. (2001). Land of Plenty. New York: W.W. Norton & Company.